FoE Australia News
Make the switch to renewable energy and help Friends of the Earth!
Friends of the Earth has partnered with Ethical Switch for a fundraising campaign to focus on the impact that a household's energy choices can make on the environment. Ethical Switch presents a comparison of all electricity providers within an area in terms of carbon emissions, renewable energy investment and customer satisfaction. By choosing one of their high rated providers, customers are directly supporting investment in renewable energy in Australia.
Our partnership with Ethical Switch promotes investment in renewable energy and it also directly benefits conservation. Send a message to our government and to big energy and for each person that switches to one of the Ethical Switch recommended companies, Ethical Switch will donate $50 to Friends of the Earth. So get behind renewable power and get switching!
Start the switch at www.ethicalswitch.com/friendsoftheearth
Victoria: A permanent ban on gas drilling is within reach!
For more than five years, FoE has worked with regional communities who are opposing the development of various forms of unconventional gas (coal seam gas, tight gas and shale gas) and a number of experimental coal projects.
More than 72 regional communities have declared themselves coal and/or gasfield free in recent years. While these declarations do not have legal power, they have strong moral authority and show that the community will oppose any attempt by the fossil fuel industry to force its way into the area. Combined with strong community campaigning and excellent media presence, we have stopped the development of all onshore gas drilling since 2012.
The Andrews government is currently deciding whether to extend or lift the ban on unconventional gas mining. We anticipate that the government will release a report by mid-May at the latest. It is essential we keep the pressure on the government and convince them that the community will support a permanent ban on all onshore gas drilling.
Please take action: send a message to the Premier, Treasurer and Deputy Premier. It will only take a few minutes, but it will have an impact. Some ideas for action are posted at www.melbourne.archive.foe.org.au/final_push
For information on the campaign visit www.melbourne.archive.foe.org.au/coal_and_gas and www.coalandgasfreevic.org
Climate change speaking tour
FoE is helping to organise a speaking tour on the climate change driven relocation of atoll peoples in Papua New Guinea, and the implications for climate justice in an Australian context. The visiting speakers will be Ursula Rakova, director of Tulele Peisa, the Carteret Islands relocation program in Bougainville, PNG, and Pais Taehu, a representative of the Nukumanu (Tasman Islands) community of far eastern PNG. The tour, scheduled from 9‒22 April, will include speaking events in Sydney, Melbourne and Brisbane, as well as networking, engagement with politicians and media activities.
More information: Wendy Flannery wendy.flannery@archive.foe.org.au, 0439 771 692
A changing climate in northern Victoria
FoE has recently launched a campaign to alert people to the changes in the climate that are already happening in northern Victoria and southern NSW. Recent research from the Australian Export Grains Innovation Centre reveals that the region is already experiencing a new climate, one that has become noticeable since about 2000. This is most noticeable in the shift of rainfall patterns.
The analysis shows that rainfall zones have moved ‒ in some cases up to 400 km. Parts of the Mallee, North Central and Riverina are now designated as being 'uniform' rainfall zones, where rain is equally distributed over summer and winter seasons. This has significant implications for cropping in the region, which has traditionally relied on a winter rainfall pattern. As a trend, annual rainfall has significantly decreased in the region and the average temperature since 1950 has already increased by between 1 and 1.5 degrees Celsius.
More information: www.melbourne.archive.foe.org.au/Bendigo
Anti-nuclear campaigns
The South Australian government's Nuclear Fuel Cycle Royal Commission released its interim report in February and will release its final report in May. Given that the Royal Commission is stacked with nuclear advocates, the interim report is remarkably downbeat about the prospects for a nuclear industry. It rejected ‒ mostly on economic grounds ‒ uranium conversion and enrichment, fuel fabrication, conventional nuclear power, 'Generation 4' nuclear power concepts including thorium, 'small modular' nuclear power concepts, and spent nuclear fuel reprocessing.
The Royal Commission is however promoting a plan for South Australia to offer itself as the world's high level nuclear waste dump. FoE has made detailed submissions to the Royal Commission, and also wrote a detailed critique of the Royal Commission. These reports are posted at www.archive.foe.org.au/royal-commission
The Australia Institute has produced two detailed reports, one debunking plans for 'Generation 4' reactors and the other questioning claims that importing high level nuclear waste would inevitably generate a large revenue stream. See the links at www.archive.foe.org.au/royal-commission
FoE anti-nuclear campaigners have also been working with communities in several states and territories who are being targeted by the Turnbull government for a national nuclear waste dump. More information is posted at www.archive.foe.org.au/waste
From July 1‒3, FoE activists will be participating in the 'Lizard Bites Back' protest at the Olympic Dam uranium mine near Roxby Downs in South Australia. The protest is being organised by the Desert Liberation Front and is a follow-up to the very successful 2012 Lizards Revenge protest.
The 'protestival' will include bands and DJs, DIY Hi Fi Solar Powered sound system extravaganza and wind-powered cinema. Combat Wombat, Futurelic, and many others will perform.
This is an open invitation to all people and a special call out to artists, musicians, activists, community groups and media to get involved in the creation of this autonomous zone as we move for peace and justice.

http://lizardbitesback.net/
facebook: Lizard Bites Back
Information on the 2012 protest: www.archive.foe.org.au/anti-nuclear/issues/oz/u/roxby
Final push for Victorian Renewable Energy Target
FoE Melbourne's Yes 2 Renewables campaign has been leading the charge for a Victorian Renewable Energy Target since February 2014. And we've entered the home straight. The Victorian Andrews government's upcoming 'Renewable Energy Action Plan' will set targets for 2020 and 2025. Victoria can become a safe-haven for renewable energy, but only if the targets are ambitious.
Please send a message to Premier Daniel Andrews, Deputy-Premier James Merlino, and Treasurer Tim Pallas today. You can use our online email tool: www.melbourne.archive.foe.org.au/bring_on_the_vret
Market Forces
Friends of the Earth affiliate Market Forces reports:
The structural decline of the coal industry is about to claim a major scalp. US-based Peabody Energy is facing bankruptcy after its share price has fallen over 99% in recent years. For those of us wanting a transition away from dirty fossil fuels to a clean energy future this is a good sign but we also have to ask: how much are we exposed to the demise of the coal sector? Fairfax has reported how ANZ has written off another $100 million in bad debts ‒ including to Peabody ‒ and we've recently published a piece pointing out how most of us ‒ through our super ‒ will be wrapped up in all this as a part-owner of Peabody.
We've been making a big deal about how banks and super funds that have custody of our money shouldn't use it to support companies and projects that harm the environment. Well, we need to amend that concern to how institutions that have custody of our money shouldn't squander it away on companies and projects that harm the environment.
Closer to home, Wangan and Jagalingou traditional owners are keeping up their determined fight against Adani's horror Carmichael coal mine proposal, despite reprehensible government support for the project. At the same time, Adani are continuing their search for financial backers, and with ANZ, CommBank and Westpac all still in the mix, we need to keep up the pressure until those banks categorically rule out funding the mine and its associated infrastructure.
We're also looking for help applying pressure to the fossil fuel industry and its supporters at a number of important annual general meetings coming up soon. Please check out our list of upcoming AGMs online, and let us know if you are able to attend or would be willing to authorise a proxy to go in your place. If you have shares in CIMIC (Leighton Holdings), Woodside, QBE, Santos, Rio Tinto, AMP or Oil Search, we'd love to hear from you.
ph 03 9016 4449
River Country Campaign
2015 was a big year for FoE Melbourne's River Country Campaign. Some highlights included:
Working with local communities and Traditional Owners to coordinate an open day to celebrate the five year anniversary of the declaration of Victoria's Red Gum Parks.
Lobbying the Victorian government on management of Red Gum forests, including adequate funding, environmental water allocations and pest and weed problems.
Highlighting the value of Indigenous Protected Areas (as well as some of the challenges they face) through engaging info-graphics, research and advocacy.
Petitioning the Victorian government to meet its promise to achieve co-management of National Parks with Traditional Owners.
In 2016, we will implement a coordinated plan to ensure that proper conservation and Indigenous rights are recognised in the management of the Red Gum forests, wetlands and waterways of the Murray-Darling Basin. We will work hard toward getting more funding for Parks into the next State budget.
A key focus for next year is building on our relationship with the Wadi Wadi Traditional Owners to secure adequate funding and Indigenous Joint-Management of the Nyah-Vinifera Park, near Swan Hill in North Western Victoria. Nyah-Vinifera Park received $0 funding last financial year!
The Wadi Wadi Nation were promised co-management in 2010 and have been fighting to secure it ever since. In December we were successful in securing a grant from the Victorian government to conduct threatened species works in the Nyah-Vinifera Park. We will also support local community to bring their concerns and aspirations to Government, so that the natural and cultural values of this special Red Gum forest can survive and thrive.
This is part of our ongoing solidarity work with Traditional Owners, supporting Indigenous people's aspirations to sustain culture and Country. In 2016 we will:
Work with the Nari Nari Tribal Council, based near Hay, NSW, to support protection of cultural sites and Indigenous natural resource management.
Build on our advocacy work on Indigenous Protected Areas (IPAs) by producing an in-depth report on challenges and opportunities for the IPA program in South Eastern Australia.
Work with Aboriginal organisations such as the Murray Lower Darling Rivers Indigenous Nations (MLDRIN) to advocate for proper management of the life-giving waters of the Murray, Darling and Murrumbdigee rivers.
‒ Morgana Russell, River Country Campaign Coordinator
Baaaaaan Gas!

Two thousand sheep have run to the top of their spelling class near Hamilton in south-west Victoria – spelling out 'BAN GAS' – as a reminder to the Victorian government that rural communities across Victoria oppose development of an onshore gas industry on their prime agricultural land. A group of local farmers came up with the idea and were able to convince the sheep to form the message across a paddock south of Hamilton.

Mal Rowe, who manages the farm and the sheep, said it was worth the effort in order to encourage the state government to decide against allowing an unconventional gas industry to develop in Victoria: "The risks to the environment, to agriculture, to human health and social harmony were deemed to be too great. We want the Premier Daniel Andrews to give us certainty."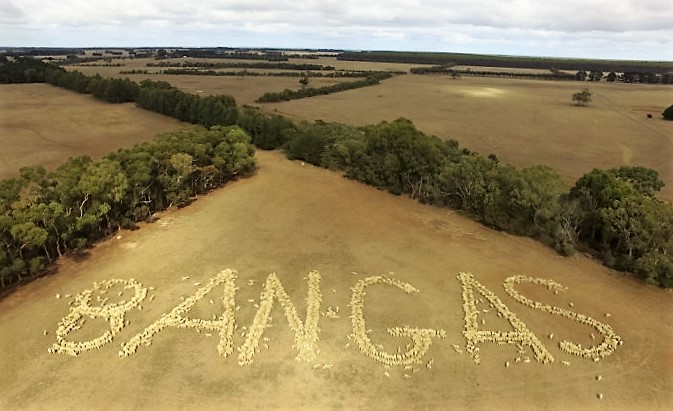 Strzelecki koala surveys start on private land
Friends of the Earth has started koala surveys on private land in the Strzelecki and South Gippsland regions of Victoria. Two surveys were conducted on the weekend of March 5 and 6, in the Jeeralangs and Middle Tarwin. Access to properties was gained through the circulation of FoE's koala poster (see back cover of Chain Reaction) which is being distributed, emailed and hung throughout the region. Landholders were happy to have positive koala sites on their property and look forward to a public meeting about the findings of the research, tentatively booked for May. On a more disappointing note, Hancock Victorian Plantations has applied to the Latrobe City Council to clear old growth trees in plantation coupes in the region.
FoE 2015 campaign diary
A diary of FoE's 2015 campaigning work around Australia is online, with short summaries of campaign work along with photos and videos. It isn't comprehensive but is still well worth a look: www.archive.foe.org.au/articles/2015-12-18/2015-visual-diary
From Chain Reaction #126, April 2016, national magazine of Friends of the Earth, Australia www.archive.foe.org.au/chain-reaction