Anti-nuclear & Clean Energy (ACE) Campaign
---
Please use the left-hand navigation bar to find your way around the anti-nuclear section of this website. The main sections are:
Issues (see below): Detailed information on nuclear and clean energy issues.
Links page including contact details and websites for Australian anti-nuclear and environmental groups.
Infosheets - collection of 2-page PDF information sheets on Australian nuclear issues.
Friends of the Earth has been campaigning against the nuclear industry - and promoting safer solutions - for 40 years. If you'd like to get involved, contact your local FoE group or contact your local anti-nuclear campaign group or contact FoE's national nuclear campaigner Jim Green 0417 318368 jim.green[@]archive.foe.org.au
If you can support FoE's Anti-Nuclear & Clean Energy campaign financially, please donate.
---
Issues
links to lots of Australian and international literature on clean energy options
PDF briefing paper on clean energy options for Australia
---
CHOOSE NUCLEAR FREE is a collaboration between the International Campaign to Abolish Nuclear Weapons, the Medical Association for Prevention of War and Friends of the Earth, Australia.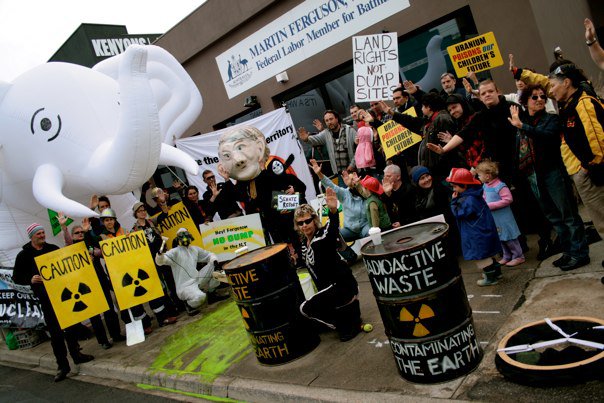 June 2014: Congratulations to Muckaty Traditional Owners for defeating Lib-Lab-NLC dump plan
---
australianmap.net - mapping Australia's nuclear sites ...
---
Once you've selected a site and wind direction, click on the place marker for information on resettlement and radiological control zones.
This interactive map illustrates two key points about nuclear accidents.
Nuclear accidents can spread radioactive fallout over a very large area.
The radioactive fallout pattern can be very random − it depends on prevailing weather patterns and topology. You might be reasonably close to a nuclear accident and be largely unaffected ... or you might live a long way away but suffer much greater impacts because of local weather patterns.
(The sites listed in the map are potential nuclear power sites in Australia, as discussed in a 2007 report by The Australia Institute. The fallout map is taken directly from the Chernobyl disaster. The map makes no allowance for local weather conditions, topology etc. at the Australian sites. More info here.)